Bioluminescence Night Paddle Trips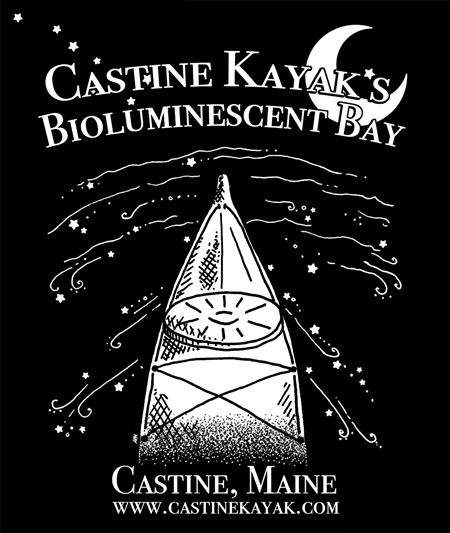 Maine's very own Bioluminescent Bay!
Featured in DownEast Magazine Sept. 2004 !
Yankee Magazine Editors Choice~Best Night Paddle 2013
Experience an unforgettable evening paddle in Castine Harbor under a blanket of stars and in the midst of bioluminescent organisms of the water that swirl and light up with every stroke of your paddle. Fascinating! Castine's Harbor is Maine'sown Bioluminescent Bay with a unique ecosystem that creates the perfect environment for these glow in the dark phytoplankton to survive and multiply.We'll explore the constellations of the stars of the night sky as a floating planetarium, immersed in the bioluminescent stars of the water! We gather just prior to sunset and after getting outfitted with lifejackets, paddles and lights we head to the docks with our Maine Guide for paddling instruction and then launch our kayaks into the calm mystical night waters of Castine's Bioluminescent Bay… as the light fades the water begins to glow! We have Double and Single kayaks, allowing beginners and experienced kayakers to enjoy this amazing experience!

Offered every Friday and Saturday night and other evenings by request with four or more paddlers!

Tour: approx. 2 1/2-3 hours $55
Best Dates when it is darkest (No MOON) 2017!
Book any night with 4 or more paddlers!

June 10-25: Dark/no moon! Saturn at Opposition, closest to earth and illuminated!!Bioluminescence!
June 22,23: Sunset/ Moonset/Bioluminescence..Spectacular!
July 10-25 Dark/no moon! Fri, Sat
Aug 12 Perseid Meteor Showers! Peaking on 8/11-8/15
Aug 9-23 Dark/no moon! Best Bioluminescence
Sept 8-24, Dark/no moon!
Sept 21-24 ACADIA NIGHTSKY FESTIVAL!
Stargazing from our floating planetarium & Bioluminescent Night Paddles!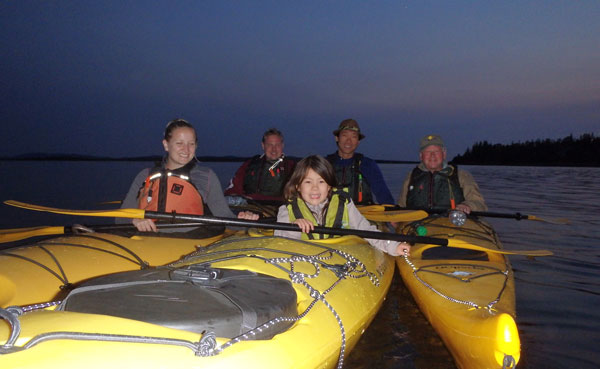 Other Night time Spectacular Event Paddles!
June 16-18 Saturn at its closest approach to earth!
See rings and moons! Bioluminescence will be good also!!
June 21: SUMMER SOLSTICE! 8-11pm Paddle!
July 12-Aug 23: Delta Aquaids Meteor Showers
July 28 & 29 Delta Aquaids PEAK
Aug 21 Total Solar Eclipse! 9-12 am (check the calender)
Aug 12 Perseid Meteor Showers! Peaking on 8/11-8/15
Sept 4, 5, 6 Neptune visible in night sky!!!

Best Dates for Moonlit Paddles!
June 1-8: Moonlit Night Paddles
June 30- July 6: Moonlit Night Paddles
July 30-Aug 6: Moonlit Night Paddles
Aug 28-Sept 4: Moonlit Night Paddles
Sept 27-Oct 5: Moonlit Night Paddles

Full Moon Paddles (Moonlight Paddles!)
June 8, 9, 10: FULL MOON PADDLE Sunset/Moonrise
July 7, 8, 9: FULL MOON PADDLE!Sunset/Moonrise
Aug 6, 7, 8: FULL MOON PADDLE! Sunset/Moonrise
Sept 5, 6 : FULL MOON PADDLE! Sunset/Moonrise
Oct 5, 6: FULL MOON PADDLE! Sunset/Moonrise